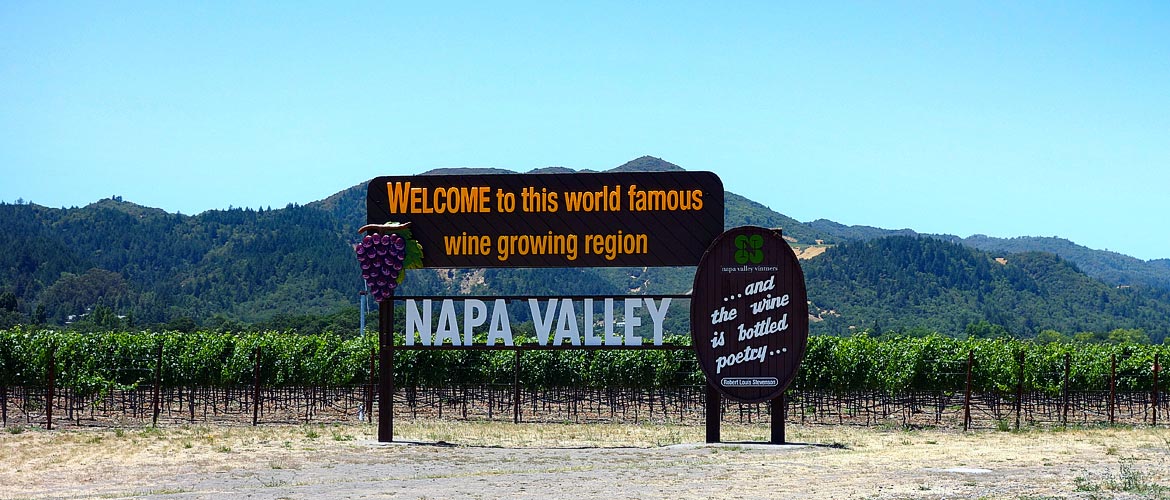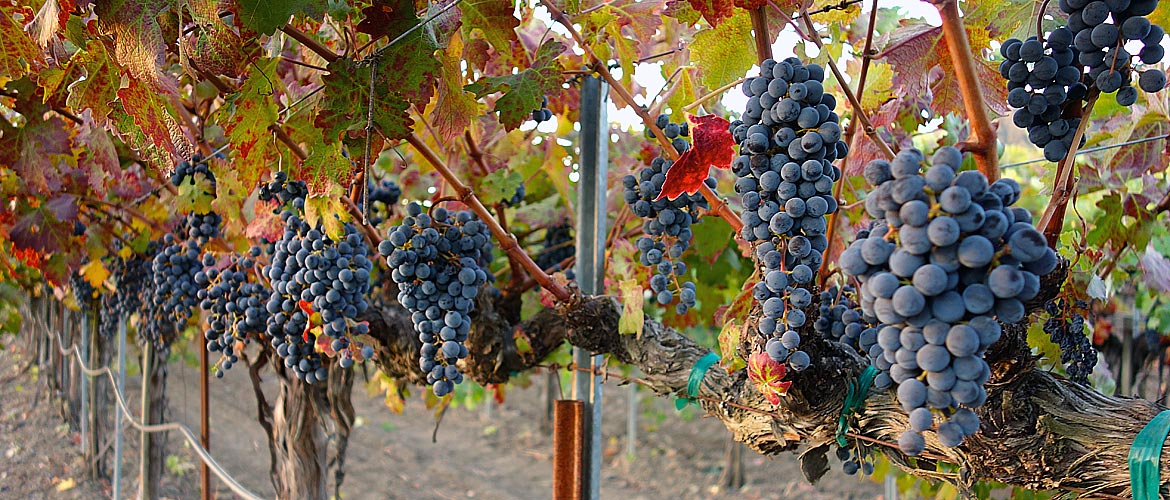 The Napa Valley is perhaps the most famous geographical name in California wine history. The valley is 60 kilometers inland from the Pacific Ocean, and runs about 50 kilometers in a northwesterly direction from where the Napa River meets the San Pablo Bay up to the mountains that border Calistoga to the north. At its widest point the Valley is 8 kilometers across, bordered on
the east by the Vaca range, and on the west by the Mayacamas range.
Napa's inland location ensures grapes a long and consistent growing season, thanks to the abundant sunshine. Yet despite the daytime sunshine, the Napa Valley also benefits from the cooling effect of an evening marine layer. This phenomenon happens when the cold waters of the Pacific are warmed by the radiant heat of coastal land, resulting in a layer of dense fog. Every night, this fog is pulled up through the San Pablo Bay and northward through the Valley, cooling the grapes and arresting their development for the evening. This difference in day and nighttime temperatures, otherwise known as the diurnal shift, allows the grapes to ripen during the heat of the day, but also preserves the balance of natural acids in the grape with the cooler temperature at night.
Of course, weather is only part of the story. Equally important is the geology of the land that is planted to vines and the grape varietals chosen. As the intersection of three colliding tectonic plates and also the alluvial floodplain of the Sierra Mountains, the Napa Valley is an incredibly complex patchwork of geology, boasting over 30 different soil types, more than any other wine
region in the world. The composition of each soil type has a profound effect on vegetation, so it is imperative to understand how varietal, soil, and weather interplay. This is what we call terroir.
At Les Belles Collines, we craft the Les Sommets Cabernet Sauvignon and White Label Cabernet Sauvignon from vineyards in the Napa Valley. The Cabernet Sauvignon at the core of these wines is from the Rutherford and St. Helena AVAs. The Rutherford vineyard is sited on highdrainage, gravelbased soil that brings the classic "Rutherford Dust" flavor to the wine. The St. Helena vineyard is sited on sedimentary, gravelclay soil that is also ideal for Cabernet Sauvignon. The blending components of our Cabernet Sauvignons – Merlot, Cabernet Franc, Malbec, and Petit Verdot – are also sourced from vineyards in the Napa Valley. All of these classic Bordeaux varietals benefit from the Napa Valley's unique terroir.