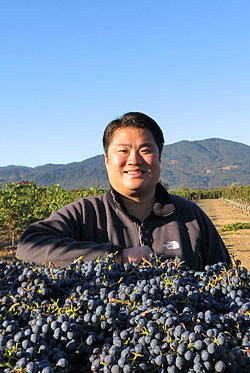 When David's first wine began in 2007, his vision was to create a Napa Valley wine that showcased Napa Valley's beautiful fruit with elegance. To do so, he called on some friends.
Napa and assembled a expert team to help him achieve his goal. They sought out the best Napa Valley fruit from exclusive vineyards, and two years later, the inaugural Les Belles Collines vintage was put into bottle. What had begun as a hobby became a new career.
Now in his sixth vintage, David still continues to create the vision for what Les Belles Collines can be. While he started only with Cabernet Sauvignon in the Napa Valley, he saw that his vision of balanced, elegant wines could be translated to other varietals and other terroirs. David is actively pursuing his winemaking credentials at the UC Davis. He has previously studied through the Wine & Spirits Education Trust (WSET), and at the Rudd Center for Professional Wine Studies at the Culinary Institute of America. He is a guest instructor at the Taiwan Wine Academy, and has frequently appears in newspapers, magazines, books, and webcasts. David holds an MBA from Georgetown University and a AB from Dartmouth College. Prior to the wine industry, David had successful careers in finance and management consulting.